Principal's Message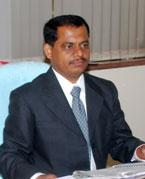 It gives me immense pleasure to introduce our Bharati Vidyapeeth's College of Pharmacy and to welcome you to our campus.

Our college is an important link in the chain of the prestigious Bharati Vidyapeeth institutions, which also includes the Bharati Vidaypeeth Deemed University at Pune. With a common objective, that is to bring about 'Transformation through Dynamic Education', we at Bharati Vidyapeeth's College of Pharmacy will strive for excellence by adopting and implementing a system that ensures a perpetual improvement in educational quality. Such a system will involve creation and regular upkeep & update of infrastructure and facilities conducive to effective teaching- learning process.


Dr. Vilasrao Kadam,
Principal, Bharati Vidyapeeth's College of Pharmacy,
Senate Member, University of Mumbai.
Bharati Vidyapeeth's College of Pharmacy has come a long way in the span of 17 years since 1993 when it was established. We recently started with the doctorate program in the field of pharmaceutics and pharmaceutical chemistry. The dedicated faculty and staff are contributing to an interactive teaching environment. This has reflected in the University results. I heartily congratulate my competent and devoted faculty members, staff and students for the splendid progress of our college.

Our laboratories are spacious and well equipped while class rooms have modern audio visual aids. The library provides multiple national & international editions of books, journals, periodicals & magazines. I am confident that all the infrastructure and facilities, coupled with our dedication, commitment and motivation will form the best environment to nurture and grow your academic interests and ensure a bright future for you.On behalf of my institution, I once again welcome you to join us, grow with us, and become a proud member of our Bharati Vidyapeeth family.