About us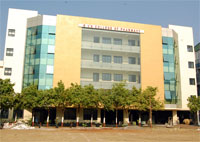 Dr. Patangrao Kadam established Bharati Vidyapeeth in Pune in 1964. The mission that Bharati Vidyapeeth has defined for itself is to bring about intellectual awakening of people through the spread of education and to prepare human resources needed for all round development, particularly economy, of the country.

Bharati Vidyapeeth's College of Pharmacy was established in 1993 at CBD Belapur, Navi Mumbai. It has come to the fore-front as one of the leading pharmacy colleges of Mumbai, within a span of 17 years. Our B.Pharm. (Bachelor of Pharmacy), M. Pharm. (Master of Pharmacy) and Doctorate (Ph.D.Tech) courses are affiliated to the University of Mumbai.

Bharati Vidyapeeth has made astonishing strides in the field of education, particularly higher and professional education. Our college is one of leading institute in the field of pharmacy having extremely dedicated, highly motivated, experienced and qualified faculty members. It has provided several competent and well-trained pharmacy professionals to the fast growing pharmaceutical industry. Many of our students have been toppers and rank-holders in the University examinations.

The alumni of our college are well-placed in the highly competitive professional area. About 40% of our B.Pharm. students have gone India and abroad for higher education. Several students are pursuing higher studies in leading management & pharmacy institutes in India.

Bharati Vidyapeeth's College of Pharmacy occupies an area of over 35000 Sq.ft.. It is located in the Thane- Belapur belt which is an important industrial area of Navi Mumbai. The college is close to Belapur railway station and is also well-connected by roads to all parts of Mumbai, Navi Mumbai and Thane.